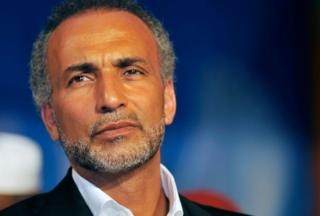 Prominent Muslim academic Tariq Ramadan is being questioned by French police investigating allegations of rape and sexual assault against him.
He was taken into custody in Paris over claims made by two women last year.
Mr Ramadan, 55, denies wrongdoing and is suing one of his accusers, Henda Ayari, a former radical Islamist who now heads a secular feminist group.
Mr Ramadan, a Swiss national, teaches Islamic studies at Oxford University, but took leave of absence in November.
Ms Ayari says Mr Ramadan raped her in a Paris hotel in 2012. "He literally pounced on me like a wild animal," she told French TV in October.
In November another woman, a convert to Islam who has remained anonymous, accused him of raping her in 2009.
He says all allegations are part of a "campaign of slander" by enemies.